Shopping Cart
Your Cart is Empty
There was an error with PayPal
Click here to try again
Thank you for your business!
You should be receiving an order confirmation from Paypal shortly.
Exit Shopping Cart
| | |
| --- | --- |
| Posted on July 30, 2020 at 4:05 AM | |
Secondo lo studio condotto nel 1976 dall'aviazione militare americana Mechanical Resonant Frequency of the Human Eye 'In Vivo' (che ovviamente non aveva intenti di ricerca pacifici) in presenza di una frequenza di circa 18 Hz, il globo oculare umano entrerebbe in risonanza.
Il fenomeno è stato brillantemente studiato da Vic Tandy nel suo articolo The Ghost in the Machine del 1998. In questo studio si giunge alla conclusione che stati di ansia e apparizioni di fantasmi possano essere generati dalle basse frequenze emesse da motori meccanici.
Normalmente gli esseri umani sono incapaci di percepire suoni al di sotto dei 20 Hz quindi questi suoni sono giustamente percepiti dal nostro corpo (non dall'orecchio) come non-umani. 18 Hz corrisponde circa ad un re un po' calante nel nostro temperamento moderno, due ottave sotto il re grave cantato da una voce di basso. Sarà interessante notare che il ruggito della tigre si aggira appunto sui 18 Hz (per cui noi udiamo solo gli armonici superiori mentre i nostri occhi risuonano di terrore).
Gli studi su questo tema si sono moltiplicato recentemente sino a creare delle mappe di risonanza del corpo umano: versione moderna dell'uomo vitruviano.
Esiste anche un movimento abbastanza recente che si batte contro l'inquinamento prodotto dagli infrasuoni correlando gli studi sugli effetti delle basse frequenze sul corpo umano con le emissioni sonore delle turbine eoliche.
Si può notare che il petto risuona a frequenze udibili (50-100 Hz) e questo spiega anche il perché certi bassi generati da potenti sub-woofer siano percepiti (con fastidio) come una pressione proprio nella regione del petto.
La domanda interessante è se esistano altre parti del corpo che risuonano a frequenze udibili (20-20K Hz) e nel caso, in che modo i fenomeni acustici abbiano influenzato la parte estetico-culturale della musica.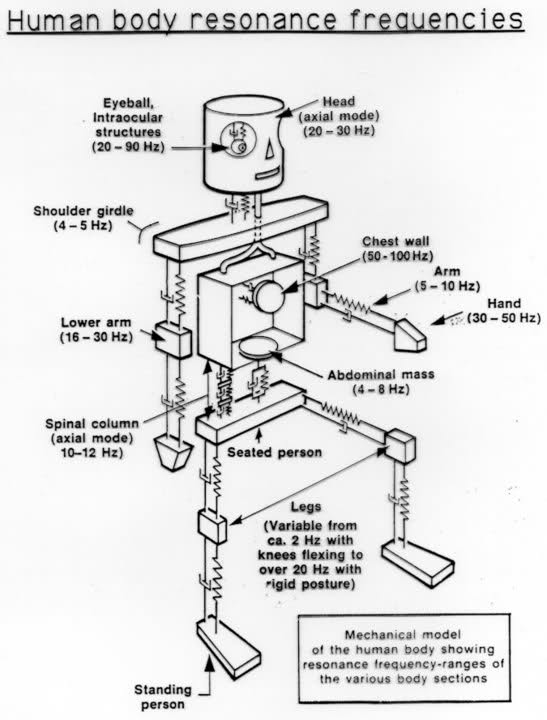 Categories: None
/